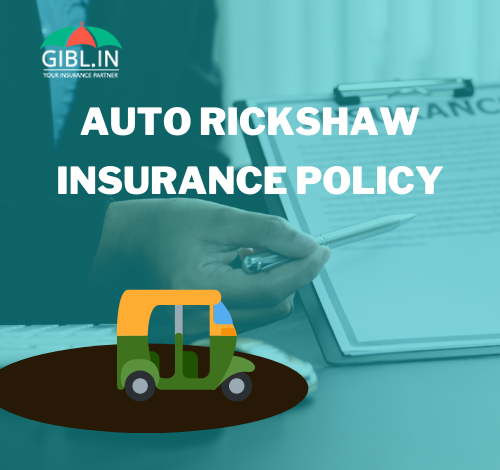 Checklist for purchasing or renewing Auto Rickshaw Insurance Policy In India, you must have at least third-party liability insurance to ride any vehicle lawfully. If you own an auto rickshaw or operate a business that does, you must get auto rickshaw insurance online. Here is a list of dos and don'ts when buying or renewing auto-rickshaws online to make things easier for you.
Why do you need auto-rickshaw insurance policy?
The Motor Vehicle Act of 1988 requires you to carry at least third-party liability insurance if you own or operate an auto-rickshaw business. It will protect you financially and legally if your car causes damage or death to someone else's property or person.
Because an auto-rickshaw is a business vehicle, you must have a valid insurance coverage to ensure the safety of your passengers.
Furthermore, your car may have downtime or a breakdown while on the road. In this instance, your comprehensive plan's roadside assistance add-on coverage will come to your aid.
Do's for buying or renewing auto rickshaw insurance policy online
Following are some do's and don'ts to keep in mind while buying or renewing auto-rickshaw insurance online:
Before you buy, double-check the insurance coverage:
Before purchasing or renewing your insurance policy, double-check the coverage. The cost of auto-rickshaw insurance is determined by the kind of coverage. Your policy will not cover any natural or man-made catastrophes, accidents, or any third-party liability coverage if your insurance coverage is insufficient. If you're renewing, you can add or remove any add-on coverage as needed. It's also a good idea to double-check insurance coverage before purchasing or renewing an auto rickshaw insurance policy.
Select the Most Appropriate Insured Declared Value (IDV):
Selecting the appropriate IDV aids in determining the appropriate auto-rickshaw insurance cost and compensation amount. In the case of theft or total loss of an auto-rickshaw, an IDV is the highest sum
insured amount given by the insurer to the policyholder.
Examine your fleet insurance:
Fleet insurance is designed specifically for business vehicle owners. An individual with many commercial cars might benefit from fleet insurance. This coverage will assist you in minimizing your auto-rickshaw insurance costs if you operate a business with many auto-rickshaws. It's also simple to renew the policy for all of the cars in
a one day, and there's no need to keep track of anything.
Conduct thorough research:
When you look for an auto-rickshaw insurance coverage online, you will be presented with a number of options from various providers. It's challenging to choose the best when you're trying to make the proper decision. As a result, it's best to pick a plan that's both reasonable and comprehensive.
Don'ts for buying or renewing auto rickshaw insurance policy online
There are certain do's and don'ts to buying an insurance policy, just as there are some do's and don'ts to buying a car. Below are a few do's and don'ts to avoid while purchasing or renewing an auto-rickshaw insurance coverage –
Don't put off making a purchase: When there are so many alternatives to pick from, it's easy to become overwhelmed. This behavior causes decision fatigue, and you lose a lot of money as a result. You do not delay in acquiring any auto insurance coverage. Create a strategy by settling on a budget before looking for choices. Consider how much you'll pay for a cover and what your fundamental necessities are.
Also, check for the requirement for add-on coverings very away. It's time to pick from the various alternatives once you've decided on the type of coverage you want. Make your payment online, and don't forget to thoroughly read the policy guidelines. This is how you will be able to make the best decision possible without being confused.
Never Go for the Lowest Price Policy:
It is always the first guideline when purchasing any insurance coverage. Never go looking for the word "cheap". When looking for auto-rickshaw insurance online, you may obtain quotations from a variety of insurers offering low-cost coverage. Don't be deceived by it; it may just provide limited coverage. As a result, it is usually advisable to get a plan that meets all of your requirements at the lowest possible cost.
Do Not Be Careless:
Even after acquiring an auto-rickshaw insurance coverage, you must drive carefully and follow all traffic laws. Never drive while under the influence of alcohol, drugs, or any other potentially dangerous substance. Additionally, do not drive erratically or run red lights. When driving, be a responsible citizen and have all of your essential documentation with you.
Conclusion
All of the aforementioned do's and don'ts must be considered while purchasing auto rickshaw insurance online. You will have peace of mind during the procedure if you follow these suggestions. Also, before completing the payment, we recommend that you read the policy materials thoroughly. If you want assistance, you must request that your insurer contact you by phone or chat support.